INSTRUCTOR AT THE LIVING STATION LAB 
At the Living Station Lab Sandrine D'Haene is welcoming you from Monday till Thursday.
If you are interested in knowing more about the Living Station Lab, you want to discuss your bio-project or want to give some insights, you are very welcome to contact her.
She gives station skills on a regular basis. 
Preferably contact her before coming so that she will have time for you: S.E.D.Haene@hr.nl.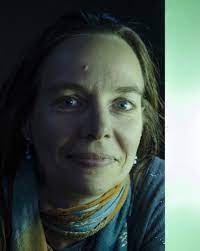 Sandrine D'Haene has a scientific background and long lab experience.
She studied biochemistry in Lille (North of France) and after working in the R&D of the big food industry (Cargill, Vilvoorde Belgium), she joined the Biophysics research group at the Vrije Universiteit Amsterdam that focused on studying the fast events in photosynthesis with ultrafast lasers. Trying to understand the secret of Nature has motivated her to get a Ph.D. in Biophysics. Her research focused on purple and cyanobacteria that are at the origin of (photosynthetic) life (thesis entitled "Regulation of Light Energy in Photosynthetic Bacteria").  
She later worked on several artscience projects at the Vrije Universiteit Amsterdam (VUA) artscience lab, created in 2017 by Raoul Frese and the artist Ivan Henriques, a platform that merges scientific research with art and design. She took part in the Symbiotic Machines for Space Exploration (SymSE) program with Ivan Henriques, the Bio Arts and Design award "CMD, experiments in Bio-Algorithmic-Politics" with Michael Sedbon, "l'Origine du Monde" STARTS residency with Annemarie Maes, Kombutex with Samira Boon Studio, Studiotopia with the duo Evelina Domnitch – Dmitry Gelfand and Christiaan Zwanikken, the Smart Hybrid Forms program with Špela Petrič and Christiaan Zwanikken.