Prep Talk on Tuesday 10th of october 12:30 – 16:00 >>> Register NOW
Dear student! 
Are you the sustainable doer of the future or curious about the sustainable innovations of our time? This program is for you!
We would like to invite you to the student symposium 'Mission: Transition: Prep Talks' on Tuesday 10th October from 12.30 – 4 pm.
This afternoon is full of interesting speakers and activities. Marie-Joan from the Erasmus MC talks about the challenges of making healthcare and labs more sustainable, go on a walk with Eric for a hands-on session about nature as a source of inspiration for collaboration, or be inspired by Julia from Chainable about producing circular kitchens! And there is much more!
The Sustainable Development Goals Coalition offers helps looking for sustainable internships or talks to the Startup Academy about opportunities and support. Would you like to discuss sustainability and develop some new ideas for Rotterdam University of Applied Sciences? Let's talk with GO HR!
You can find more about this in the program below.
Register now
Register here quickly and we will reserve a drink for you. Minor students have first access, so register before the event opens to the entire university,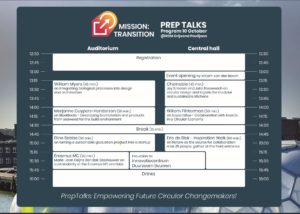 Location & Travel
The event is in the Drijvend Paviljoen at the RDM Campus
Take the water taxi from Marconistraat to RDM for free with your student card, bus 68 to RDM Campus, or take the bike!
Team Circular Makers Industry
Eveline Bijleveld, Nicole Daamen, Caroline van Alphen en Merlijn Boer
Contact: missiontransition@hr.nl