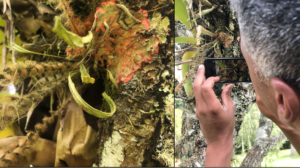 Ivan Henriques works at WDKA since 2016.
Henriques is an artist, researcher and tutor at the Digital Craft course and the Living Station, with a vast experience in interdisciplinary practices which includes art/design/engineering/science, with a critical approach to how we have been dealing with the natural environment. At WDKA Henriques is implementing sustainability in the academy curriculum, based on system thinking and making.
Henriques has a background in the combination of art & science, and his interests goes from symbiosis of the living with the non-living, communication with other specimens to bio-robotics. He considers nature as inspiration and a necessary force and knowledge to shift the human-centred development of the technological world.
Henriques believes that education is the main pillar for the development of a sustainable world where we educate ourselves and help students to make ecological decisions.
You can find Ivan Henriques at WDKA Mondays, Tuesdays and the mornings of Wednesdays. You can email him at: