Former swimming paradise Tropicana has developed as a place where all kinds of initiatives in the field of the circular economy come together: BlueCity.
Rotterdam University of Applied Sciences has created an environment in this striking building to offer study programs the opportunity to collaborate on circularity more easily. But it is also possible to rent a space for a meeting.
BlueCity focuses on the city of the future where living and working are central in a circular way. (Starting) entrepreneurs have the space here to implement new ideas, among other things by linking their residual flows. An ideal place for the university of applied sciences to sit in between.
In this way, the university of applied sciences creates a wonderful place to introduce students to circular thinking and working. In the past period, various training courses have collaborated on a project basis with BlueCity and the entrepreneurs established there. The WERKplaats Techniek and WERKplaats Nieuwe Bedrijfigheid of the Rotterdam University of Applied Sciences, in collaboration with the relevant study programs and the facility services (FIT), have further expanded the cooperation with BlueCity with the aim of creating a place where various disciplines can work together on circular and biobased issues.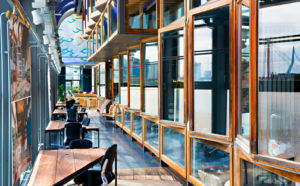 Circularity
The university of applied sciences has rented and furnished an (educational) space in the former swimming paradise where students and teachers can use lab facilities. Hilke Stibbe, project leader WERKplaats technology about these lab facilities: "The lab is suitable for all kinds of crossover applications where students can work with living organisms, the use of fungi, but also for the regular makerspace facilities that serve to create circular solutions. "
BlueCity will thus become a practice-oriented learning environment where students and teachers come together on the theme of circularity within the economy and of materials and products. In this way, coordination between the various programs dealing with circularity and between Rotterdam University of Applied Sciences and BlueCity is facilitated. The collaboration is in line with the vision of the university of applied sciences to opt for satellite locations where the university of applied sciences can provide education for the students in a dynamic location.
BlueCity as a circular hub is a place where we want students to think about a meaningful future and where they learn to work on circular solutions for our city.
—————————————————————————— 
Teaching in BlueCity
The discoruimte is the classroom and circular hub of Rotterdam University of Applied Sciences
Hogeschool Rotterdam provides a space (for ±45 persons, ) students and teachers to help build a new, circular world. Do you want to reserve this space?
Space reservations
Space reservations are made through Naomi Luijkx. She takes care of planning and coordination with colleagues internally and contacts with BlueCity. You can email her via: BlueCity@hr.nl
SEND AN EMAIL WITH THE INFORMATION BELOW
Please let us know what your activity is, how long it takes and for how many people. We strive to make the space available as much as possible for several colleagues and students. It is therefore possible that there is also another group. If this is not desirable for your 'activity', please indicate this. Then, if possible, we do not plan anything next to your activity.
VIEW CALENDAR
We have created an agenda for BlueCity in Outlook. Colleagues who (regularly) use the space have full access to the agenda. More information via BlueCity@hr.nl
Get in touch
Maasboulevard 100
3063 NS Rotterdam
info@bluecity.nl for general enquiries